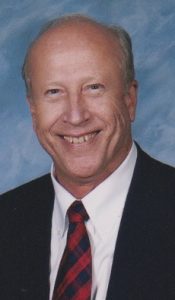 Peter J. Scott, age 83, passed away on January 15, 2023, in Houston, Texas. He was born March 22, 1939, in Ridley Park, Pennsylvania to Carl and Edna Scott. He graduated from Ridley Park High School in 1957. After moving to Texas with his family in 1957, he attended the University of Houston where he earned his bachelor's degree in history and his master's degree in education. After graduation, he served in the United States Air Force Reserve for six years attaining the rank of Staff Sergeant.
Pete was employed by the Clear Creek I.S.D. for a total of 37 years. As a teacher for six years, Dean of Boys for one year, and as a counselor for 30 years. He was a charter member of Bay Area Presbyterian Church.
Pete was preceded in death by his parents, Carl and Edna, and his niece, Jessica Scott. He is survived by his brother, Richard Scott and wife, Hilda, his nieces – Sarah Walter, Emily Stallings, and Tommi Jo Scott, his nephew – Johnathan Scott, his grandniece – Hannah Danforth, his great grandnephew – Mason Hoskins, and special friend – Vivian Martin.
Mr. Scott will be buried during private family services at Forest Park East Cemetery. Memorial services will be held at 1:00 PM on Saturday, January 28, 2023, at Bay Area Presbyterian Church, 670 E. Medical Center Blvd. in Webster. In lieu of flowers, donations may be made to the Houston SPCA or the Bay Area Presbyterian Church Building Fund.