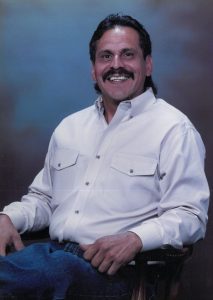 Mr. Pete Moreno was born February 28, 1961 in Houston, TX and passed away January 21, 2017. Mr. Moreno attended Lakewood church and owned H.P. Auto Wrecker in Pearland, TX.
Pete went to work for Watson Automotive in 1978 as an Auto Mechanic. In 1980 he opened his first Automotive shop which he named HP Automotive. He then advanced to have his own Automotive and wrecker shop named HP Auto Wrecker in 1995.
Pete was a friend to many and a very hard worker who started his own business from nothing. Pete also was a very dedicated father to his son William Padilla. He touched many lives and will be missed by many.
Mr. Moreno is preceded in death by his father, Martin Moreno; step father, Don McCoy.
He leaves behind his mother, Mary McCoy; son, William John Padilla, wife Dona; grandchildren: Jade Eary, Kane Padilla and Blade Padilla; sisters: Janie Moreno, Olivia Lurea, husband Joe and Trina Thomason; brothers: Martin Moreno, wife Teresa, Richard Moreno, wife Mary Paz, Mike Howard McCoy and Don Howard McCoy Jr., wife Oralia, nieces, nephews, great Nieces, and Great Nephews
A visitation will be held from 10-11 am with a funeral service at 11am at Crowder Funeral Home. Burial to follow at South Park in Pearland.