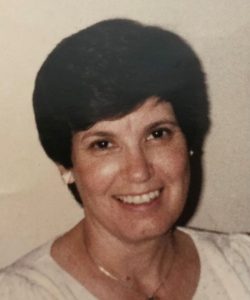 Peggy Ann Yarbrough, a cherished member of the community in Dickinson, Texas, peacefully left this world on July 3, 2023, in the loving presence of her family. At the age of 86, Peggy's life was filled with love and meaningful connections.
Peggy will always be remembered as a loving and cherished wife, mother, sister, aunt, grandmother, great-grandmother, and friend. Her family was the center of her world, and she embraced each role with unwavering warmth and affection. Her love was a constant source of strength and support for all who knew her.
Peggy was born in 1936 in De Soto, Missouri, to Ernest and Delaphine Livengood, as the youngest of four girls.   As a child of the Depression era, Peggy and her family were shaped in unique and powerful ways. Peggy came from humble beginnings, and learned to be resourceful and resilient, finding creative solutions to overcome obstacles and make the most of limited resources.
Peggy left for St. Louis at the age of 17 for work, where she met Herbert Yarbrough. They married the next year and moved to Napa, California while Herb was in the Air Force where their oldest daughter was born.  Peggy worked at a mental institution for a period in California, which was the source of many interesting stories. After Herb left the Air Force they moved to Jennings, Missouri next where their second daughter and first son were born. The next stop was Cahokia, Illinois, where their second son was born, and then to Florissant, Missouri. They moved to Michigan with Bendix until moving to Dickinson, Texas in 1972, where Herb worked for NASA. Peggy worked in retail and real estate through the years.
Peggy had a strong work ethic, determination, and tenacity. She had a strong sense of empathy and compassion for others facing challenging circumstances. She strived to   understand people's struggles and extend a helping hand to those in need.
She was a member of Dickinson First United Methodist Church for over 50 years and enjoyed the camaraderie of its Agape Sunday school class for many years.
In addition to her dedication to family, Peggy had a vibrant spirit that drew people toward her. She possessed a sincere curiosity for meeting new people, actively seeking out their experiences and forging authentic connections. With her friendly and inviting demeanor, she effortlessly generated a sense of warmth and camaraderie wherever she ventured.
An avid reader, Peggy was a member of the Laughter, Love, and Literature book club in Dickinson where she found solace and inspiration within the pages of countless books. Her passion for reading allowed her to explore new worlds and expand her knowledge on a multitude of topics. She shared her love for literature with others, sparking conversations and fostering a love of reading among those around her.
Peggy enjoyed the simple pleasures in life as well. She found special joy in taking neighborhood walks and staying active.
She was preceded in death by her husband, Herbert Yarbrough; son Brian Yarbrough; great-granddaughter Alina Manchester; sisters, Dorothy Mae Leas, Rosemary Seago, and Bonnie Brown.
Peggy leaves behind to cherish her memory, daughters, Gayla Martin and husband Dan, and Robyn Smith and husband Michael ; son, Keith Yarbrough and wife Diane; grandchildren, Brad Martin, Natalie Manchester, Alex Smith, Alyssa Yarbrough, Lilly Yarbrough, Jeremy Yarbrough, Brian DeCaro, and Sarah Yarbrough; great-grandchildren, Gabriel, Broden, Bree, Cole, Quinn, Joanna, Autumn, Caleb, Abigail, Ethan, and Sienna; as well as numerous extended family and friends. She will be especially missed by Stella Harness, a sister-in-law whom Peggy thought of as a true sister.
Peggy's presence and love will forever be missed by her family and all who had the pleasure of knowing her.She leaves behind a legacy of kindness, love, and devotion. May her memory be a source of comfort and inspiration in the years to come.
In her honor a memorial service will be held on Saturday, July 15, 2023, at 10:00 am in the Crowder Funeral Home Chapel, Dickinson,Texas, officiated by Reverend James Littleton.
If donations are preferred, they may be made to Dickinson First United Methodist Church (please denote "For Library" on memo line).