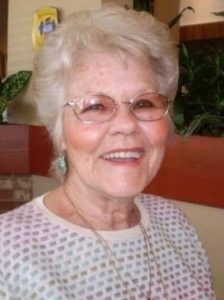 Peggy Anita Childress, 78, passed from this life on Saturday, August 14, 2021 surrounded by family. Peggy was born on October 9, 1942 in North Ottawa, IL to Delbert and Gracie Hagood. Peggy and her husband Billy D. Childress have been a resident of Bacliff, TX since 1971.
Peggy married Billy Childress in 1960 and traveled a lot due to Billy's work. It gave an opportunity to see God's country. She assisted Billy with work at times and other times she worked as a bookkeeper. They raised a family of 3 children and she loved being a stay at home mom to see her children grow. Peggy loved her family, her birds/various animals, gambling and was THE number ONE Dallas Cowboy fan.
Peggy is preceded in death by her parents, Delbert Hagood and Gracie Fern (Suttuth) Hagood. Peggy is survived by her husband Billy D. Childress, daughter  Kimberly Childress, son Kelly Childress and wife Vicki Childress, daughter Kacie Lara and husband Roger and grandchildren: Keith Grohmann and wife Emilie, Kelsey Sullivan and husband Meshach, Macie Childress, Madalynn Childress,, Makala Childress, Yvette Hill and husband Chaz, Karissa Lara, Jennifer Lara along with 6 great grandchildren.
In lieu of flowers, please send a donation to American Cancer Society.