Pearl Angeline Chronister Salisbury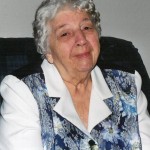 Pearl Salisbury passed away January 29, 2014 at Bayou Pines Care Center in La Marque, Texas. She was born to parents Edgar Clark Chronister and Ella Pearl Rodkey on January 3, 1922 in Warriors Mark, PA.
During World War II, she was a true "Rosie the Riveter" in Lakehurst, NJ. Upon joining the Women's Army Corps (WACS) in 1943, she served in Greenville, South Carolina in the hospital, motor pool and subsequently in administration as an office clerk. She volunteered for the Pacific theater and was assigned to the Far East Air Service Command as a clerk in the Rear Echelon and saw duty in New Guinea and the Philippines.
She was preceded in death by her parents; husband, Vernon; three brothers, Earl, John Clark, Merle; two sisters Hazel and Anabelle and son-in-law, Stanley Schumann.
She is survived by her four children and spouses: Dean (Jolene), Mary Bell, Mark (Wilma), Carolyn (Jim); Grandchildren: Wade Salisbury(Jennifer), Kimberly Voelkel (Jason), David Schumann (Lana), Shannon Salisbury (Kristin), Sharee JaNe' Forrester (Jonas), Micah Haddock (Joshua), Merrick Salisbury, Chris Clark, Jeanette Carton, Mandy Pentico, Dawn Pentico, Josh Pentico and seven great-grandchildren. Also surviving her is Lupe Chronister, sister-in-law, and numerous nieces and nephews.
Visitation will be Friday, January 31, 2014 from 5:00pm – 8:00pm at the James Crowder Funeral Home in La Marque.
A celebration of Pearl's life will be held on Saturday, February 1, 2014 at 2:00 pm at Crowder Funeral Home with Rev. John Montgomery and Rev. Robby K. Magee officiating. Burial will follow at Forest Park East in Webster, Texas.
Pallbearers will be her grandsons.