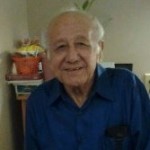 Paulito Patina, 82, entered his eternal rest on Saturday, April 19, 2014. He was born August 13, 1931 to Cruz and Juanita Esparza Patina in Gonzalez, Texas.
He served in the United States Army National Guard 141st Infantry Regt. 1949.
Paulito was a welder for the Galveston and Todd shipyards and worked for the Cotton Compress. He was a Golden Glove Boxer in Galveston for several years; he loved to sing, he enjoyed his yard work, tinkering around the house and traveling to Albuquerque to visit. Paulito was a devout Christian and read his bible daily.
He is preceded in death by his sons, Salvador Patina and Hipolito Patina and his parents.
He is survived by his daughters and son-in-law; Paula Patina of Houston, Pauline and Robert Kyzer of Albuquerque, Mary Limones of La Marque and Auora Hernandez of Houston; sons and daughters-in-law; Cruz and Rita Patina of La Marque, Martin Patina of Pasadena, Paul Esparza of Texas City and Julio and Janie Esparza of Galveston; sister Janie Burt of Texas City and brother Fedencio Patina of Galveston; fourteen grandchildren and eleven great grandchildren.
Visitation will be Thursday, April 24, 2014 from 6:00pm – 8:00pm with a Prayer Service at 7:00pm at the James Crowder Funeral Home in La Marque. Funeral service is at 10:00am on Friday, April 25, 2014 at the funeral home with Rev. Raul Navarro and Rev. Rosa M. Majano officiating. Burial will follow at Galveston Memorial Park in Hitchcock, Texas.
Pallbearers will be Robert Kyzer, Mark Tinney, Cruz Anthony Patina, Jeremy Limones and Desmond Campbell. Honorary pallbearers will be Gabriel Patina, Richard Limones and Cori Loxterman.
The family would like to thank the Clear Brook Crossing Care Center for the care of their father.