Pauline "Pokey" Mary Napoli Smith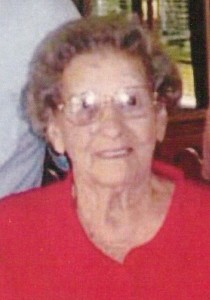 Pauline "Pokey" Mary Napoli Smith, 97 of La Marque passed away on June 3, 2015 in Texas City, Texas.  She was born February 9, 1918 in Dickinson, Texas to Augustine and Mary Messina Napoli.
She was lifelong resident of Galveston County. Pauline was employed 34 years at Lipton Tea in Galveston before retiring.   She maintained a friendship with many of her co-workers all these years. She was a strong, independent woman, was blessed with a lifetime of good health that enabled her to maintain her own home where she particularly enjoyed having a vegetable garden each year and loved her flowers.  She always had a smile and kind word for the many people who knew her and would stop to chat wherever she went.
She is preceded in death by her parents, her husband Durward L. Smith, sons; Durward (Jim) Smith and William (Billy) Smith, two brothers; Dominic and Leon, three sisters; Katie, Angelina and Josephine, and granddaughter; Julianne Smith.
She is survived by her, sister; Annie Dantin, daughter-in-law Roxana Smith, grandchildren; Debbie Smith of Lake Jackson, Dolores Barker (James) of Georgetown, Michael Smith of Lake Jackson, Rob Smith of Richmond and Janis Smith, great-grandchildren; Devin Stair of Lake Jackson and Jacob Barker of Georgetown.  She was like family to her special friends for many years, Johnny and Frankie Barrow and Ed and Judy Young, who has enjoyed her wit and company so much.
Pallbearers will be Michael Smith, Rob Smith, Dink Parker, Kurt Parker, Jessie Covington and Joe Belluomini.  Honorary pallbearers are Johnny Barrow, Ed Young and Gerald Vaughn.
She will be greatly missed by family and friends.
A visitation will be held on Saturday, June 6, 2015 from 12:00 noon to 1:00pm at the James Crowder Funeral Home in La Marque, Texas.  Funeral Service will follow at 1:00pm with Father Chacko Puthumayil officiating. Burial will be at Forest Park East Cemetery in Webster, Texas.