Paula Grace Beasley Thompson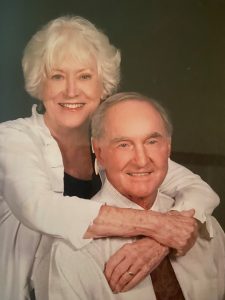 Paula Grace Beasley Thompson reunited with her loving husband Billy Joe Thompson in heaven when she passed away peacefully in her sleep on October 1, 2022.
Paula was born November 21,1935 near the small town of Charleston, MO. She was the daughter of loving parents Robert Wyman and Pauline Beasley. She graduated from Charleston High School in 1953 where she was very active. She was involved in a variety of clubs and activities including Band, Glee Club, and Student Council. She was also a Majorette and was even declared Valentine Queen during her junior year.
After high school, Paula attended William Woods College in Fulton, MO.  She ultimately graduated from Southeast Missouri State College with a Bachelor of Science in Secondary Education. During that time, she was active in the Sorosis social organization.
High school and college experiences had many highlights, but the turning point in her life was December 22,1959 when she married Billy Joe Thompson.
From this point onward, her life reached a whole new level of joy and fulfillment as she and Bill embarked on an amazing new chapter in their lives which included the start of Bill's formidable career in the U.S. Space Program along with starting and raising a family of two daughters and a son.
By 1962, they ultimately settled into the small town of Satellite Beach, Florida where Paula stayed extremely busy raising their three children, creating a beautiful and comfortable home, and taking part in many hobbies and activities including bridge, Mahjong, sewing, painting, cooking, choir, gardening, and volunteering at her children's schools.
Paula loved Florida and was very socially active in her years living in Satellite Beach. As a couple, Paula and Bill had many friends who they enjoyed having cookouts, parties, and occasional vacations with.  Paula was also very active in the Methodist church choir and in the Satellite Beach community.   Always home to greet her children and ask about their day when they came home from school, she made it a point to have a delicious family dinner ready when Bill arrived home from work.
One notable aspect of Paula's life was her openness and willingness to explore and try new things. She organized many family road trips over the years.  As time went on, her love for travel took her and Bill to many other places in the world including New Zealand, Australia, Hawaii, Alaska, Morocco, and various European countries.
In 2002, after enjoying many decades living in Satellite Beach, Paula and Bill decided to move to Houston, Texas to be closer to some of their children and grandchildren.  Together they joined the Clear Lake United Methodist Church choir and stayed very involved in their children's and grandchildren's lives.
Paula was warm, open, friendly, and well-educated. She made quite the impression on her children's friends, boyfriends, girlfriends, and future son- and daughters-in-law.  An inquisitive, caring, and extremely thoughtful person, she had a way of taking an interest in everyone she met, making them feel important and significant. She was truly one of a kind and left a legacy that will be cherished by everyone who was fortunate enough to have known her.
Paula was preceded in death by her husband Billy, her parents Wyman and Pauline, and sister Betty.   She is survived by her children Susan Hanley of Houston, TX; Rebecca Thompson of Dallas, TX; and Paul Thompson and his wife Melinda of Vancouver, WA along with six beloved grandchildren.