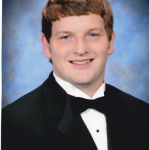 Paul Edward Miller peacefully passed into his eternal home on March 5, 2017 with family at his side in Webster, Texas at the age of 22. He was born April 19, 1994 in Victoria, Texas to P. J. and Clare Miller of League City.
Paul was a beloved brother, son, and friend to many. He graduated from Clear Springs High School in 2013, where he was a highly decorated wrestler qualifying for regionals three years in a row. He loved the outdoors and was working toward a profession in the medical field. Paul not only fought on the wrestling mat, but he also battled cancer at the age of 19 and defeated it.
He is preceded in death by his younger sister, Grace Anne Miller, and grandparents, Ed and Anna Marie Meaney. He is survived by his parents, brothers Phillip and Peter Miller, and sisters Elizabeth and Catherine Miller. He is also survived by grandparents Jerry and Joan Miller, step-grandmother Millie Meaney, as well as many uncles, aunts, and cousins.
The Family will receive friends on Thursday, March 9, 2017 from 5-7:00pm with a Vigil Service at 7:30pm at St Paul the Apostle Catholic Church, 18223 Point Lookout Drive, Nassau Bay, Texas 77058. A Funeral Mass will follow on Friday at 10:30am at St Paul the Apostle Catholic Church with Father Wencil Pavlovsky officiating. Burial will take place at Mount Olivet Catholic Cemetery in Dickinson, Texas.
In lieu of flowers, memorials may be made to MD Anderson Cancer Center and to the Depression and Bipolar Support Alliance of Greater Houston.