Patty Lois Craver Valentine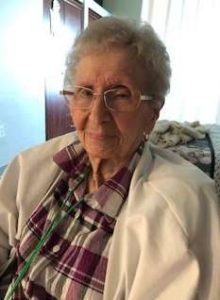 Patty Lois Craver Valentine passed on September 16, 2019 at Bayou Pines Care Center in La Marque, Texas.  Pat as she is known by all her friends and family was born April, 20 1925 in Wortham, Texas to Patrick and Bertha Lee Craver Williams. She grew up in and around Gladwater Texas and spent a lot of time in Atlanta, Texas with her grandparents. On February 24, 1943 she married the love of life E.C. Valentine. This marriage lasted 70 years until E.C.'s passing in 2013. They were blessed with two children, Kirby Jane and Freddie Austin. They lived mostly in Corpus Christi, Texas until moving to Point Comfort, Texas in 1967.  For the past nine years Pat has lived in La Marque, Texas with her daughter and son-in-law.
Pat was a Pink Lady at the Port Lavaca Hospital for several years. She enjoyed bowling, camping, cooking for holidays, loved to crochet and also playing dominos. She was a member of Point Comfort Baptist Church and Highlands Baptist Church of La Marque and loved her Lord and Savior Jesus Christ.
She is preceded in death by her parents, husband, two brothers and three sisters.
Pat is survived by her daughter Kirby Jane Traweek (Jack) and son Freddie Austin Valentine (Marylou), her three grandchildren; Neal Bradley Traweek, Patty Traweek Decker (Randy), Jennifer Traweek Cotter (Chris), five great-grandchildren; Tara Broze (Josh), Brittany Traweek, Brooke Cotter, Blake Cotter and Dylan Grove, two step grandchildren Cody Decker and Sierra Decker and four great-great-grandchildren; Weston Allen Jackson, Alexa Broze, Zoey Broze and Jacob Broze.
A visitation will be on Sunday, September 22, 2019 from 2:00pm – 4:00pm at the James Crowder Funeral Home in La Marque.  There will be a visitation on Tuesday, September 24, 2019 from 1:00pm – 2:00pm with a funeral starting at 2:00pm at the Grace Funeral Home in Port Lavaca, Texas.  Pat will be laid to rest in Green Lawn Gardens Cemetery in Port Lavaca, Texas next to her husband, with Rev. John Fisher officiating.
Pallbearers will be Randy Decker, Chris Cotter, Blake Cotter, Mickey Grove, Dylan Grove, Brad Traweek, Josh Broze and Cody Decker.