Patsy Jane Landriault Poehls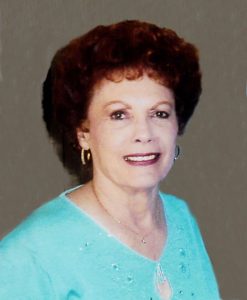 Beloved wife, mother, grandmother, and great grandmother, Patsy Jane Landriault Poehls, passed away comfortably, after a brief illness, the morning of August 27, 2022, in Needville, Texas.  She was 89 years of age and known to her family and friends as Pat, Mom, Patty, Grandmaw, and Nana.
She was born October 24, 1932, in Corpus Christi, Texas, to James and Fern Taulbee.  Moving up the Texas coast to Hitchcock/Texas City area.  Pat married her late husband, Ray Landriault, Sr.  They were married 47 years and made Texas City, Texas, their home, where they raised their blended family.  Pat was a hairdresser that worked from her home for many years.  She loved to travel with friends and family.
Pat loved to sing and dance all her life.  She met her husband, of 14 years, Glenn Poehls, dancing and the dance never ended.  Moving to his home in Rosenberg, Texas, where the couple traveled in their RV, rode motorcycles, and had many trips to State Parks riding bicycles and enjoying nature.  Camping, dominoes, and trips to play the slots were a few of her favorites.
But most of all, the love for her small family kept her going.  Everyone that met her and saw that contagious smile knew she had a heart of gold.
Preceded in death by her maternal grandmother, Beatrice Stahl; stepfather and mother, Melvin & Fern Enmon; brother Ronald M. Sequoio; previous husband, Ray Landriault Sr.; stepson, Ray Landriault, Jr.
Survivors include husband, Glenn Poehls, of Rosenberg, Texas; son, Larry Roberts and wife, Susan (Missy), of Concan, Texas; grandchildren: Robin Sibley and husband, Dave, of League City, Texas; Bryan Roberts, of Montgomery, Texas; Anna Beth Roberts Foyt, and husband Joseph, of Odessa, Texas.  Great grandchildren:  Madalyn and Alaina Sibley, of League City, Texas; Brady Roberts, of Montgomery, Texas; and Preston Foyt, of Odessa, Texas, and dear cousin, Cookie Chestnut, and husband, Bobby of Robstown, Texas.
Visitation 10:00 am, Saturday, October 22, 2022, at James Crowder Funeral Home, La Marque, Texas with a Celebration of Life immediately following in Chapel, with Wes Migl officiating.  Burial of ashes will be held at Hayes Grace Memorial Park, Hitchcock, Texas, following lunch and Heavenly 90th birthday celebration.
A Special THANK YOU to Reliable Oaks Assisted Living and Windsor Hospice & Palliative Care Services of Needville, Texas.  Elizabeth and Mary were Angels to Pat and her family.