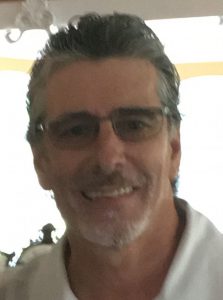 Patrick Warren Ford, 55, passed into eternal life on September 19, 2017. He was born to loving parents Rodger Ford and Mary Franklin on June 18, 1962 in Roseville, CA. He was preceded in death by his father, Rodger Stephen Ford and grandmother, Evelyn Gilmore.
Patrick grew up in California, New Jersey, and Indiana. He graduated from Munster High School in Munster, Indiana. In his early career he worked as a gas analyst and computer programmer for Quality Standards in LaPorte, Texas. He also earned his captain's license and ran a chartered fishing business. He was later employed by Progressive Pipeline as a computer analyst. In recent years he enjoyed working on his farm in Louisiana, restoring the land and constructing a new building.
Patrick adored his caring, supportive wife of 35 years, Leslie (Kaszubski) Ford. He enjoyed fishing, gardening, his Scottie Terriers (Lucy and Buddy), and driving his Harley Davidson and his Corvette. He was a loving, caring, and loyal husband. He bravely battled painful, progressive health issues the past 29 years. He had a heart of gold, and despite his suffering with illness, he would never hesitate to help others often playing mechanic and helping and encouraging neighborhood kids to pursue higher education. The family would like to express their gratitude to Dr. Michael Gorback for his dedication to Patrick's wellbeing and also thank Patrick's very special infusion nurse, Aires Luke, who dedicated herself to providing him treatments with comfort and care.
Patrick is survived by his beloved spouse Leslie Ford; his mother Mary and (husband Robert Franklin); and brother Shaun Franklin (wife Nicole).
In his honor a visitation and Rosary will be held Tuesday, September 26, 2017 from 6-8 p.m. at Crowder Funeral Home 111 E Medical Center Blvd, Webster, TX. Funeral Mass will be held Wednesday, September 27, 2017 at 10:30 a.m. at St. Clare of Assisi Catholic Church on 3131 El Dorado Blvd, Houston, TX. There will be a luncheon following the Mass at St. Clare. Burial services will be completed by St. Joseph Catholic Church in Lincoln, CA with final resting at Gold Hill Cemetery in Newcastle, CA.
In lieu of flowers, donations on his behalf would be appreciated to:
The Fisher Center for Alzheimer's Research Foundation
Davis Phinney Foundation for Parkinson's Research