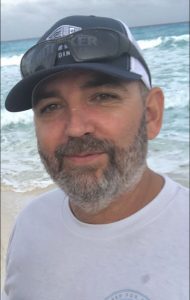 Patrick Jason Hillis, 51, passed away on Friday, October 21, 2022, in Houston, Texas. He was born on May 2, 1971, in Pasadena, Texas to Pam and Patrick Hillis. Jason is survived by his: wife, Kim Hillis; son, Caleb Hillis; daughter Sophia Hillis; mother, Pam Hillis; sister, Jessica Serrano and her husband Hernan Serrano; nephew, Cash Serrano; niece, Maya Serrano; and numerous family members and friends.
Jason worked as a Safety Manager for Avadek for 17 years.  He had a passion for fishing, woodworking, cooking and loved to spend time with his kids and wife as much as possible.
A memorial service will be held on Saturday, October 29, 2022 at 10:00 am at Webster Presbyterian Church, 201 W Nasa Pkwy, Webster, Texas 77598. There will be a short reception following in the fellowship hall for anyone to pay their condolences to the family.
In lieu of flowers, family and friends may donate to the Family's Go Fund Me Account, www.gofund.me/697d2ef1