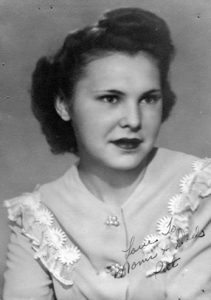 Patricia Ruth Mantzel, 93, of League City, TX, went home to be with the Lord on Feb. 9, 2022 after a brief illness.
Patricia was born on November 1, 1928, to J.E. & Mary Godbehere in Galveston, TX . She was the 9th of 12 children.
After high school, she met Clifford E. Mantzel Jr., and they married on May 17, 1947. They had four children and eventually moved to LaMarque to raise their family. Their marriage lasted 70 years until his death.
When all their children graduated, they retired to Reklaw, TX to enjoy country life. They made many wonderful friends. Pat loved to bake and earned many ribbons from the county fair for her baked goods. She was passionate about passing out bags of cookies to church members each week, people at the grocery store and pharmacy and mailing cookies to friends and family. She was still baking right up to the day before she went in the hospital. She saw baking cookies as a ministry. Something to bring a little joy and possibly nostalgia of home baked goodness into peoples lives. She will be remembered for her generosity, sugar cookies, cakes, bread and cinnamon rolls.
Pat and her husband Cliff traveled over most of the US and Europe. She loved to tell how she had to lay flat in a boat to get into the Blue Grotto in Capri, Italy or her visit to John Wesleys home in Epworth England.
Patricia was preceded in death by her husband Clifford Mantzel Jr., daughter Patricia Mantzel Saum and daughter Rebecca Mantzel. She is survived by her youngest sister, Margie Godbehere Raiborn, her children, Clifford Mantzel III and Tina Walker, grandchildren Rachel Wooten and husband Rick, Eric Rapson and wife Angie, Nick Saum, Andrew Saum and wife Sarah. Her great-grand children Ashley Rapson Vargas and husband Andrew, Sydni Rapson, Austin Rapson, Owen Saum and Elliott Saum along with many nieces and nephews.
Pat was a member of Bay Harbour United Methodist Church and loved reading bible verses daily to her sister over the phone. She had most of them memorized as she could no longer see well. She enjoyed going to church when she could, and watching church services on television every week. Every morning she had a routine of reading her bible, devotionals and listening to hymns. At night just before her prayers she would listen to more hymns and sing along with the verses she remembered.
A Memorial service and Celebration of Patricia's life will be held at Bay Harbour United Methodist Church in League City, TX on Wednesday, February 16, 2022 at 2 pm
Flowers or memorial contributions to Bay Harbour Church are equally welcome.
Philippians 4:13 I can do all things through Christ who strengthens me.