Patricia (Pat) Kay Glover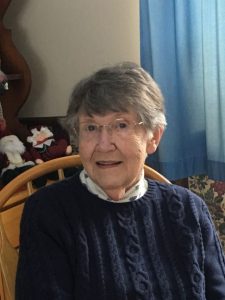 Patricia (Pat) Kay Glover, 81, passed away May 14, 2019 in Webster, TX.  Patricia was a resident of Bridgton, Maine for over 60 years, she attended First Congregational Church of Bridgton, Maine and was a member of the Chickadee Quilters.
In her lifetime Pat was many things; a nurse, newspaper reporter, florist, hospital admissions.  Her creative, artistic nature revealed itself through gardening, refinishing furniture, basket making, knitting, cooking, learning how to reupholster furniture, make drapes and wedding gowns, do cross-stitch and crewel work.  But her greatest love was quilting – bedspreads, table runners, wall hangings, and Pat won many ribbons for her creative stitching and use of color.  What gave her the most joy was using her creative talents to benefit others.  She sewed stuffed animals, doll clothes and quilts that were used in fundraising efforts by the Bridgton Hospital, her church and the Chickadee Quilters.
Pat is preceded in death by her husband of 56 years Alfred Glover, Jr.; her first husband of 3 years, Theodore Clawson and her parents, Clarence, Kathleen and Margaret Irving.
Pat is survived by her daughters: Karen Mason and Liz Phillips, husband Steve, Sr.; grandchildren: Melissa Mathews, husband Mike, Steven Phillips, Jr., wife Radley, Kristina Walling, Rachel Progner, Michael Phillips and Dusty, Matthew Phillips, wife Brittany, Greg Mason, wife Jessica and Stephen Hutzler, wife Eianne; 15 great grandchildren; her brother, David Irving, wife Jackie.
Memorial service will be held Saturday, May 18, 2019 at 2:00 pm in the chapel of Crowder Funeral Home in Pearland.