Patricia Jeanine Henderson Woody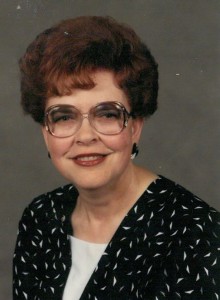 Patricia Jeanine Henderson Woody, 78, of La Marque passed away Monday, November 9, 2015 in Texas City. She was born February 15, 1937 in Corpus Christi, Texas to Clyde and Evelyn Henderson.
Jeanine was an English Teacher with La Marque Independent School District and a Principal with Heights Baptist Christian School and Bread of Life Christian Academy; she was an author and accomplished speaker; she loved to play the organ and piano and she taught Sunday school at Highlands Baptist Church where she was a member.
Jeanine was a woman of strong Christian Faith and a loving mom who will be missed by all.
She is preceded in death by her parents and her brothers; she is survived by her husband of 56 years Arlen Woody; two daughters and sons-in-law, Lisa Emmite (James) and Lauren Marshall (Gary) and her two sons and daughters-in-law; Scott Woody (Cherie) and Christopher Woody (Heather); twelve grandchildren and three great grandchildren.
Visitation will be on Friday, November 13, 2015 from 9:00am – 10:00am at the Crowder Funeral Home in La Marque. Funeral service will be at 10:00am at the funeral home with Pastor John Gilligan officiating. Burial will follow at Mt. Olivet Catholic Cemetery.