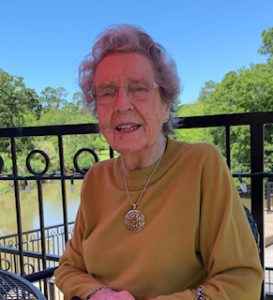 Patricia J Whelan (Pat) of League City, Texas passed away at the age of 93. She passed away peacefully on October 15th surrounded by her loved ones.
Pat was born and raised in St. Louis, MO and had three brothers and one sister.  After high school Pat met Fred M Whelan on a blind date and they later married. Prior to moving to the Houston area, they lived in Indianapolis, Indiana where they had they raised their 2 daughters Juliana Whelan Bareford and Suzanne Whelan Ferguson.
Pat and Fred were very active in the Catholic church and did lots of volunteer work in their spare time. Pat and Fred were also foster parents for over 10 years until they adopted their own children. Pat loved to volunteer at a nursing home when she lived in Indianapolis. She had a great sense of humor and was very kind and made a very positive impact on anyone that she met.
In her spare time Pat enjoyed doing crossword puzzles, watching birds, going for walks and spending time with her grandchildren and great grandchildren.
Pat was predeceased by her husband, Fred Whelan and her brothers and sisters.
Pat is survived by:
2 daughters, Juliana Bareford and Suzanne Ferguson.
4 grandchildren, Krystal Norman, Brittany Heiman, Ian Ferguson and Delaney Bareford.
3 great grandchildren, Claire Norman, Christian Heiman and Makayla Heiman
A memorial service will be held at St. Bernadette Catholic Church in Clearlake on November 9th at 10:30am.