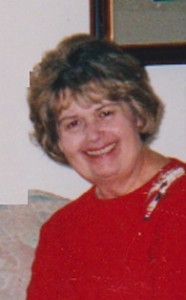 Patricia Gibson Mann
1938 – 2015
It is with great sadness that the family of Patricia Gibson Mann announces her death on the afternoon of June 1, 2015.  She was 77.
Pat was born on March 19, 1938, in Okmulgee, Oklahoma.  She was the only child of Claude Ernest and Bertha York Gibson and was born into a family with deep ties to the oil industry.  After graduating from high school, Pat attended the University of Oklahoma, where she was a proud Pi Beta Phi.  In 1959, she left college to marry her high school sweetheart, Stanley P. Mann. As the wife of a young naval officer, Pat lived in Annapolis and Charleston before settling in Houston when Stan left the navy and joined NASA at the onset of the Gemini program.  The couple put down permanent roots in the Clear Lake area and started a family.
Pat was a stay at home mother to her two children, Lisa and Stanley Jr., but was by no means idle.  She cheered at endless Little League games, attended dance and music recitals, sponsored scout troops and generally supported her children in thousands of ways.  In 1964, Pat and a few close friends founded the Clear Lake Area Panhellenic Association as a way to continue the fellowship they had enjoyed as members of their college sororities.  The organization initially represented four sororities but by the following year, encompassed 13 sororities and was formally recognized by the National Panhellenic Conference. The organization thrives to this day, and Pat was thrilled when CLPA celebrated its 50th anniversary in 2014.
Never satisfied with having left OU before graduating, Pat decided to go back to school.  She enrolled in the University of Houston-Clear Lake, and completed the requirements for a degree.  At the age of 54 and in one of the proudest moments of her life, Pat was awarded a Bachelor of Arts from the University in 1992.
A lover of musicals, Pat had an encyclopedic knowledge of show tunes from the 40s and 50s.  She enjoyed reading, shopping and just settling in for long phone conversations with friends far and near.  She was a loyal Astros and Rockets fan, attending many games with her husband.  Pat loved to hear other people's stories and truly never met a stranger in her life.
She is survived by her husband of 56 years, Stanley Mann, her daughter Lisa Mann and son-in-law Bradley Bingham, grandson Harrison Bingham, son Stanley Mann, Jr, and granddaughter, Lindsay Mann.  She will be greatly missed by her family, her extended family of step grandchildren, and her many friends.
Before her death, Pat claimed to have written down her wishes with respect to funeral services and the like. True to form and after a prolonged search, no such writings can be found.  Left to speculate on such matters, her family and friends will honor Pat at a memorial service at St. Thomas the Apostle Episcopal Church, 18300 Upper Bay Road, Houston, Texas 77058 on Monday, June 15, 2015 at 2 o'clock pm.  (Hope we guessed right Mom).
In honor of Pat, her family has endowed a scholarship in her name at the University of Houston-Clear Lake. Please consider a donation to the Patricia Mann Scholarship, University of Houston- Clear Lake, Office of University Advancement, 2700 Bay Area Blvd., Houston, Texas 77058, c/o Kim Herhold.