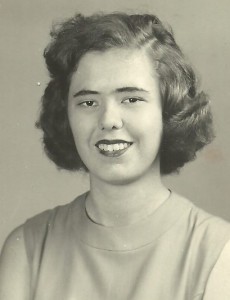 Patricia Ann McCall, 77, of Texas City TX, passed away after a hard battle with cancer on Friday January 8th, 2016 at 7:14 pm in La Marque, Texas.
She was born to the late Roy W. McCall Sr. and Buna Estelle McCall; December 6th 1938 in Bastrop Louisiana. She moved to Texas City when she was 9 years old and graduated from Texas City High School in 1957. She worked all her life as a secretary in Dallas and retired in Houston in 2001. Very pious, she was a member of First Baptist in Texas City while also attending Second Baptist in Houston for the past 33 years. She is pre-deceased by her brother Roy W McCall Jr, her father Roy W McCall Sr. and mother Buna Estelle McCall. She is survived by her nephew Garrett H McCall, niece Susanna C Martinez and husband Matthew Martinez, sister-in-law Susanna G. McCall, and grand-nephew Kameron McCall.
A graveside service will be held at 1:00 p.m. on Tuesday, January 12, 2016 at Hayes Grace Memorial Park Cemetery in Hitchcock, Texas.
In lieu of flowers, the family would request for you to make a donation to a charity of your choice.