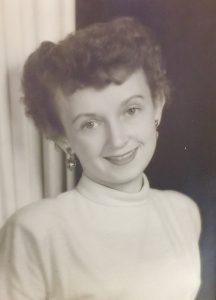 Patricia Ann Crook, passed away peacefully at her League City home with her beloved cat, Buddy by her side on March 27, 2017.   She was born the only child of Charlie and Hattie (Cvikl) Flanagan on February 6, 1933 in Waco, Texas.  After graduating from Waco High School she married her high school sweetheart, Billy Earl Crook.  They moved to Houston, Texas where their son, William Mark was born.  After nearly 60 years of marriage, Billy died on October 14, 2010.  Patricia was also preceded in death by her parents and two half sisters, Elsie Eads and Ruthella Davison.  She will be greatly missed by her son, Mark Crook and his partner, Ron Hickman.
Mark extends his heartfelt thanks to Lidia Martinez for her special care and love shown his mother.  He is also grateful for Felecia Gambrel and Providence Hospice.
Patricia and Billy will be laid to rest in the Waco Memorial Cemetery, Waco, Texas.
In lieu of flowers memorials may be made to the Alzheimer's Association or the SPCA of Houston.