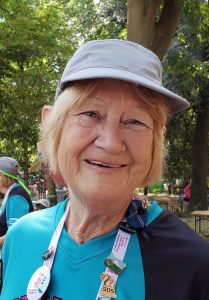 Patricia Ann Bingham, of Alvin, passed away on Monday, September 18, 2023 in Alvin, Texas at the age of 74. She was born on March 28, 1949 in Klamath Falls, Oregon to Theodore and Gladys Bingham.
Patricia worked as a physical therapist and was devoted to her cats, both personally and as a business.
She was preceded in death by her father Theodore, who passed away in 1991, and mother Gladys who passed in 2003.
She is survived by her brother, Jeffrey Bingham.
The Family will receive friends on Saturday, September 30, 2023 at 10:00am with a Memorial Ceremony to follow at 11:00am at Crowder Funeral Home, 1645 East Main, League City, Texas 77573.
In lieu of flowers, you may send memorials to Texas A&M University Winnie Carter Wildlife Center thru the Texas A&M Foundation at https://www.txamfoundation.com/give.aspx?c_id=9&d_id=63&sd_id=469 or Paws Hoofs and Claws, 5818 Trinity Road, Needville Tx 77461 https://pawshoofsandclaws.org/contact-us/