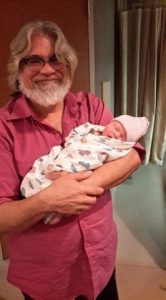 Oscar Chapa, Jr., born January 25, 1963, died peacefully in his home on Tuesday, September 20, 2022.
The oldest son of Oscar Sr. and Martha Chapa born in Houston, Texas before moving to Pearland where he and his younger brother Luis grew up and spent most of their youth helping their father run his auto parts & mechanic shop. In high school, he attended San Marcos Baptist Academy where he served in the Corps of Cadets.
After graduation, Oscar spent time as a carpenter before finding his lifelong passion in the kitchen. He graduated from the Art Institute of Houston's culinary school and became a chef at restaurants across Houston, working his way up from a line cook to the prominent position of executive chef. He moved on to teaching the next generation of chefs ,and even after leaving the classroom, maintained a mentoring relationship with several up-and-coming chefs. He was passionate about providing exceptional food even for the dogs he loved & cared for, which spurred his entrepreneurial spirit to open Loki's Treats, an artesanal dog food and treat company supplying products which were made to the high standards he kept in the restaurants and classrooms he loved.
When not working, Oscar was an avid collector of vintage comic books, rare trading cards, action figures, and board games. He was a fixture at several local gaming clubs, helping to organize gaming conventions and spread his love for them with others. Outside of that, he was a proud grandfather to three beautiful grandchildren who he loved deeply and who will miss him most at the Thanksgiving table where he would play with them and encourage them to eat their vegetables.
He is survived by his mother, Martha; younger brother Luis and sister-in-law Shelley; daughter, Lesslie; and his son, Matthew, daughter-in-law Andrea,  grandchildren Josephine, Kyle, and Libby.
The family will be holding a private service and requests that in lieu of flowers that individuals would instead donate to these worthy causes: