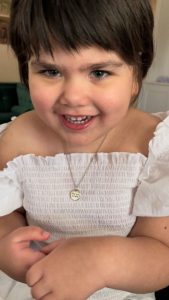 Olivia Iris Outlaw, at only five years of age, left this earth, with her father and mother at her bedside on September the 5th, 2022. Olivia was born on June 15th, 2017, in Houston, Texas.
Olivia poured into everyone whom she encountered. She was an embodiment of love.
Olivia taught us the beauty of what it is to be fully alive, regardless of physical limitations. Olivia was unequivocally magnificent, and her absence will be felt enormously by all of those who had the opportunity to know her.
Olivia is survived by her parents Keith and Shalamar Outlaw, her brother Tyler Benjamin Petty, her maternal grandparents, paternal grandparents, uncles, aunts, cousins, and extended family. She will live on in each of us.
To follow her story, please visit www.girlnamedoutlaw.com
Funeral service will be held on Saturday, September 10, 2022 at 10am at Crowder Funeral Home, 1645 East Main Street, League City, Texas 77573.
Family flowers were designed by Kemah Flowers and Company located at  601 Kipp Ave, Kemah, TX 77565            Ph#  (281) 532-6933