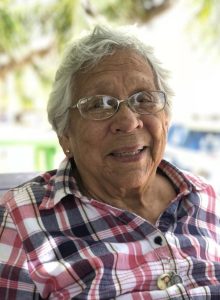 Olga Matilda Gabb, of Webster, Texas, passed away on Wednesday, February 15, 2023 in Webster at the age of 92. She was born on March 26, 1930 in Belize City, Belize to Ernesto and Margarita Rivero.
Olga was a homemaker and enjoyed hosting relatives and friends for delicious and inviting meals at her table, especially for the holidays. She was famous for her 'war cake' which she generously provided for special occasions to her loved ones and anyone who asked. She emigrated to California in 1984 and moved to League City in 1997. She spent the last 6 years of her life living with her son Charles and daughter-in-law, Elena in Webster, Texas. She loved her home country of Belize and looked forward to her visits and especially catching up with her family and friends and eating Belizean fare. She was a devout Catholic with great devotion to Our Lady of Guadalupe.
She was preceded in death by her parents Ernesto and Margarita Rivero, husband of 50 years, Charles Frederick Gabb, sisters, Sr. Bernardis Rivero, Wilma, Hazel and Shirley Rivero, Jean Locke, Daphne Craig and Yvonne Detloff.
Olga is survived by her Daughter: Esther Cetro, husband: Louis Cetro, children: Matthew and Ashley Delinko. Son: Charles Gabb, wife: Elena Gabb, children: Sharlie Velasco, husband: Felipe Velasco, son: Kyle Christopher Gabb, wife: Catherine Gabb. Great grandchildren Sofia and Felipe Rafael Velasco / Haven and Magnolia Gabb
Sisters: Norma Francis, Mae Ginter, husband Fred Ginter, Margaret Awe, husband Karim Awe. Brother: Ernesto Rivero, wife Pauline Rivero and many loving nieces and nephews.
The Family will receive friends on Monday, February 20, 2023 at 6:00pm with a Vigil Service at 7 o'clock at Crowder Funeral Home, 1645 East Main, League City, Texas 77573.
A Funeral Mass will follow on Tuesday, Feb. 21, 2023 at 10:00a at St. Mary Catholic Church, 1612 East Walker, League City, Texas 77573 with Father John Rooney presiding.
The Family will have an interment in Belize at a later date.