Olga ("Gigie") Villaflor Intelisano
Olga ("Gigie")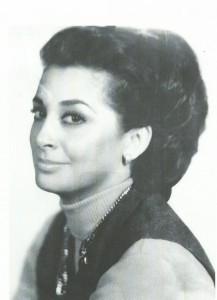 Villaflor Intelisano, of League City, Texas, formerly of Massapequa and Islip, New York, passed away on Saturday, May 2, 2015. She died at the age of 89, at her residence surrounded by her loving family. Gigie was born on February 21, 1926, in Brooklyn, New York, to Lorenzo Villaflor and Olga Pandolfini Villaflor.
Gigie spent many years working in the millinery industry in New York City, beginning as a model and advancing from regional to national sales positions. A pioneering woman in the industry, she earned positions of significant responsibility during the 60's and 70's.
She was preceded in death by her first husband, John D. Elliott, and her second husband, Louis P. Intelisano, and her son, Robert M. Elliott. Gigie is survived by her son, James E. Elliott, and his wife, Barbara Emerson, of University Park, Texas, by her daughter Lisa Elliott, of League City, Texas, and by her daughter-in-law, Cindy Elliott. She is preceded in death by her brother, Larry Villaflor, and sister, Caryl Frankl. Gigie is survived by her sisters Laura Grossi, Ramona DiBenedetto, Christina Niemiec and Catherine Miner, and brother Vincent Villaflor, as well as grandchildren Lee Elliott, Christopher Leeney, Allyce Elliott, Taryn Leeney and Catherine Leeney and numerous loving nieces and nephews. She is also survived by her beloved and trusted companion, dachshund Gidget.
The family is requesting donations to be made to Triumphant Tails, Inc., in Gigie's name, in lieu of flowers. Triumphant Tails can be contacted at P.O. Box 338, Kemah, Texas 77565, or at http://www.triumphanttails.net.