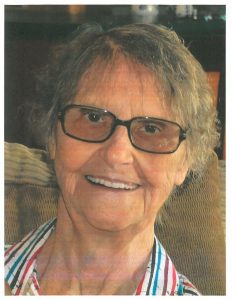 Oleta Drunell Evans, 91, a Pearland, TX resident since 1992 passed away September 8, 2019.Mrs. Evans was born October 21, 1927 in Lufkin, TX.  Oleta was a member of Sagemont Church since 1995 shortly after she moved to Pearland.
Oleta rejoins her husband I.H. "Buddy" Evans; son, Robert "Roly" Evans; parents, Willie and Mary Vaughn; sisters: LaVerne Johnson and Maudice Rhodes; brothers: J.E. Vaughn, Arnold Vaughn and Earcle Vaughn.
Oleta is survived by her daughters: Brenda Johnson, husband Ronnie, Gloria "Squeaky" Thomas, husband Rusty, Barbara "Bobbie" Evans and Daughter in law Paula Evans; son, Charles Ray Evans; grandchildren: Jodi Lamb husband Ronnie, Greg Johnson wife Sarah, Teri Jenkins husband Kevin, Cody Thomas, Brad Thomas wife Pam, Ryan Thomas wife Samantha, Houstyn Evans, Jennifer Evans, Dallas Evans, Austin Evans wife Evelyn and Coleman Evans; great grandchildren: Kaci Lamb, Shelby Lamb, Colten Johnson, Mitchell Johnson, Margaret Johnson, Samuel Johnson, Kelsey Jenkins, Kaeley Jenkins, Kenna Jenkins, Katie Jenkins, Karaline Jenkins, Dylan Thomas, Tyler Thomas, Allyn Thomas, Jocelyn Thomas and Ian Thomas; numerous nieces and nephews.
There will be a memorial visitation Saturday, September 28, 2019 at 1p.m. with a memorial service beginning at 2p.m. in the chapel of Crowder Funeral Home, 2422 E. Broadway Pearland, TX 77581.