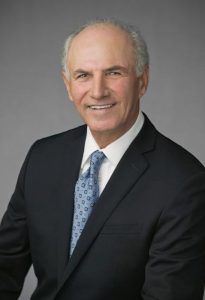 Norwood Richardson, Jr., possibly the world's greatest husband, son, brother, uncle, friend, LSU football enthusiast, and golf partner, went to be with the Lord on January 24, 2022. Norwood passed peacefully in the arms of his beloved wife Lisa, to those of the Lord, in the presence of close friends and Rocco after a long and courageous battle with lung cancer. Norwood was a son of Louisiana, a proud graduate of Louisiana State University, and a devoted fan and season ticket holder at home games in Death Valley for over 60 years. He was born to Norwood Richardson, Sr. and Juanita Fontenot Richardson on August 8, 1952 in Baton Rouge, Louisiana. He attended schools in Baton Rouge, graduating from Istroma High School, where he made his mark in the classroom and on the football field and baseball diamond, solidifying his lifelong love of sports. Norwood started attending LSU football games from age 5 with his father, grandfather, and other family members, and it became a lifelong tradition. The closeness of family and friends and love of the outdoors has been a hallmark of his life, beginning with his father, grandfather and uncles teaching him to hunt early on, in the woods in and around Baton Rouge. As he grew older, these family members became his first core group of hunting buddies. He dearly loved these times and for most of his life, hunting and fishing trips with close friends brought him endless joy.
As a boy, Norwood's home was in close proximity to numerous aunts and uncles, and he would wander in and out of their homes pretending to be hungry while he held his own personal contest to find the best Cajun cooks in the family.
He attended LSU, where he majored in business administration, LSU football and the Kappa Alpha fraternity. During college, Norwood entered the Army, attending Basic Combat Training at Fort Polk, Louisiana. He then advanced to become a Vulcan weapons crewman, and subsequently attended airborne training at Fort Benning, Georgia. after which he spent the next two years jumping out of "perfectly good airplanes".
After completion of airborne training, he was assigned to Company A, First Battalion, Air Defense Artillery, 101st Airborne Division, in Fort Campbell, Kentucky. By the time of his discharge, he had been promoted to Sergeant, the maximum progression possible for his time in service. Having learned love of country from his family and early life in Baton Rouge, his Army service solidified his patriotism and dedication to his country.
Following the completion of his military service, Norwood returned to his studies at LSU where he graduated and then embarked on a new career as a claims adjuster for a national insurance company. Here he met his future brother-in-law, Jimmie Vicknair. As chance would have it Norwood completed his training and moved to New Orleans where he was stationed as a fire claims adjuster. Jimmie and his new wife, Sybil, were raised in New Orleans, where Jimmie was also stationed as an adjuster. The newlyweds attempted to arrange a date with Norwood and Sybil's younger sister, Lisa Hornyak, who was a sophomore at LSU in Baton Rouge. They were successful at doing so a year later.
That fateful evening of their first meeting, Lisa came downstairs to find everyone in the kitchen. At first glance and from across the room, she looked into Norwood's eyes, and she says they were dancing and twinkling. They were both smiling from ear-to-ear and although they had not spoken any words, felt they had known each other their entire lives. In that moment, Lisa knew that Norwood would be her future husband. They dated every weekend for six months and then had a year engagement before marrying in 1979.
They moved to Baton Rouge so Lisa could continue her studies at LSU and Norwood accepted a sales position as a manufacturer's representative for Sunset Designs, where he would become the company's corporate sales leader. After Lisa landed a job as a retail buyer for Goudchaux's, a Baton Rouge based department store, they built a home in Baton Rouge and spent their weekends with their families in both Baton Rouge and New Orleans.
Lisa was an older sister to two of her siblings, Stephen and Jennifer. They were young children when the couple met and provided fun, entertainment and adventure for their families. Norwood's only sibling, Donna Richardson Burkett, and her husband, Julius welcomed their first daughter, Jessica, only days apart from Sybil and Jimmie, welcoming their first child, Brandt. All the children enriched Lisa and Norwood's lives and they developed close relationships with them that continued over their lifetime.
During this time Lisa's father, Steve Hornyak, suggested Norwood look into Agency with State Farm Insurance; and Norwood set about looking into the company. The more Norwood found out about State Farm, the more interested he became in a career with the company. He worked with a manager to learn about State Farm and he set his sights on being an Agent. Over the next two years, he looked for an opening, visiting several cities with Lisa.
Their personal State Farm Agent, Jim Crane, eventually heard about Norwood's interest in having an agency, and "like a good neighbor", forwarded him the name and contact information of his friend, Pat Cunningham, a Manager in Beaumont, Texas. Although Pat did not have any immediate openings for Agency, he referred his own friend, also a manager at the time, Johnny Janese, who lived in Friendswood, Texas. Norwood met Johnny, and he then brought Lisa to meet him. The chemistry was perfect, and the spark was immediate; and the rest, as they say, is history.
So it was that in 1984, Lisa and Norwood moved to Houston where he started a new State Farm agency from scratch, to the everlasting mutual benefit of both parties.
Norwood built his business, partnering with Lisa, who managed his office for the first 13 years. Lisa marketed Norwood's agency, gathering information from local, potential policyholders and setting appointments with these folks for Norwood to quote insurance. The business quickly grew and after two years, they hired their first full-time employee, Cindy Comeaux. Cindy worked with Norwood at the office for over 35 years, almost his entire career and until his passing. Norwood's amazing staff, several of whom he worked with over 20 years, share the same principles as Lisa and Norwood and will always be considered as family.
Over his almost 38-year career with State Farm, Norwood gave 100% of himself to developing his Agency and servicing his policyholders. He loved his work and as many have said, "he was born to be a State Farm Agent." Norwood received countless honors and awards, including the honor of lifetime membership in the President's Club. It meant so much to him and he proudly wore his Lifetime President's Club ring until his passing. His driving force was his desire to help people and have them treated fairly; and this was the bedrock of what would become one of State Farm's best agencies.
He was an honest and charismatic leader in the company and in the South Belt/Ellington community, and his passion for service led him to support numerous local projects and causes important to the people in that community over the span of his career. He served as the first President of the South Belt/Ellington Rotary and several years later for an additional term. He was an active member of the Chamber of Commerce. He threw himself into a lifetime of service, dedication, integrity, consistency, and passion for his work – he exemplified what being a good neighbor is all about.
Early in Norwood's career, Lisa was diagnosed with ulcerative colitis and became extensively involved locally and nationally in what is now the Crohn's & Colitis Foundation. Lisa and Norwood started out looking for information and support, and found a family of lifetime, caring friends that share in their passion to find a cure for Crohn's disease and ulcerative colitis.
The close and lasting friendships that Norwood and Lisa made within their State Farm family left an indelible mark in their lives. They traveled the world together, always bringing their golf clubs; while the couple explored America and experienced life and cultures in far-away lands over many nations and continents. Norwood was invited to join the Delta Force Study Group early in his career and the meetings brought Agents together to improve their businesses. Their wives joined and they all became travel partners, sharing weekends filled with fun and laughter that grew into life-long friendships.
Though not yet 40, he was made an honorary member of the "Over the Hill" golf group made up mostly of Agents over-40. Norwood and Lisa immensely enjoyed the company of friends with weekends of golf tournaments in Texas cities that ended with a Saturday night dinner dance for all the couples. It was here that they learned how to two-step.
Norwood developed his golfing skills and love of the game over 30 years with memberships at South Shore Harbour and Bay Oaks Country Clubs. He traveled with his buddies in the "Serious Men's Golf Group" to play on different courses locally as well as on trips nationally and internationally. Golf became his favorite playing sport in his adult years.
Norwood was bigger than life. His great sense of humor and laughter were at the heart of his relationships with family members, friends, and acquaintances. He would relentlessly tease and play jokes with everyone he felt comfortable with.
Norwood and Lisa were on the road monthly to visit their families in Louisiana and they also enjoyed entertaining them at their Houston home. He remained a devoted son and son-in-law to their parents care in their later years, sometimes making weekly trips to look in on them or take his father to the LSU home game.
He dearly loved and reveled in his friends, and it was Lisa and his friends and family who came to his side in the last days of his life. Their presence brought him joy at the end. He was beloved by so many who crossed his path in his life. He will be sorely missed. With Lisa holding him in her arms, Norwood passed away peacefully at home.
He is pre-deceased by his mother, Juanita Fontenot Richardson, and his father, Norwood C. Richardson, Sr., and is survived by Lisa, and by his sister, Donna Richardson Burkett (Julius), nieces Jessica Burkett Wright (Howard), and Mary Courtney Burkett Berdon (Lawrence Dean), sister-in-law, Sybil Hornyak Vicknair (Jimmie), brother-in-law, Stephen J. Hornyak, II, sister-in-law, Jennifer Hornyak Dirksen (Greg), nieces and nephews Brandt Vicknair (Alexis), Brennan Vicknair Jackson (Daniel), Alexander Hornyak, Isabel Hornyak, Christian Thielemier, Caelan Chow, Angelique Chow, and Scarlett-Rose Chow, nine great nieces and nephews, and numerous cousins. And he is survived by his great paw-pal, Rocco.
A Celebration of Life Mass will be held at 10:00 AM on Friday, February 18, 2022, at St. Helen Catholic Church, 2209 Old Alvin Road, Pearland, TX 77581.
In lieu of flowers, the family requests that a donation be considered to support Norwood's favorite charity:
Crohn's & Colitis Foundation Southern Texas Chapter, 5120 Woodway Drive, Suite 10003, Houston, TX 77056 https://www.crohnscolitisfoundation.org/chapters/southtexas, or American Cancer Society, Memorial Hermann Hospital Southeast, 11800 Astoria Blvd., Houston, Texas 77089 https://www.cancer.org