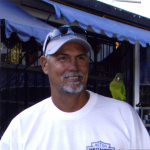 Norman Kerry Crites, 57, of Dickinson, Texas, passed away February 12, 2014, in Houston. He was born December 12, 1956, to Norman and Judith Crites in Corpus Christi, TX. Kerry graduated from Pasadena High School in 1974. He was an avid golfer and loved spending time with his wife, children and grandchildren. Kerry also loved playing cards, being on the water and barbecuing with his whole family. Kerry was preceded in death by his father.
Kerry is survived by his mother; his loving wife, Glenna Lawrence Crites; his sons, Benjamin Kerry Crites and his wife Sherie, and Casey Crites and his wife, Amanda; sisters, Jill Stegall and Norma Gundermann and her husband, Tom; brother, Shawn Crites; and his grandchildren, Nathan, Colton and Beau Crites.
A memorial visitation will be held Sunday, February 16, 2014, from 4:00 p.m. to 6:00 p.m., with a memorial service, Monday, February 17, 2014 at 10:00 a.m. at Crowder Funeral Home, Dickinson, Texas.