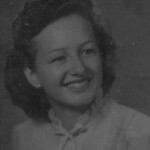 Norma Jean Wheeler Koneman, was born March 7, 1926 to Tommy and Nina Wheeler, and was the oldest of three sisters, Bobbie Ruth and Jo Ann. In June 1941, Jean, one of a class of seven, graduated from New Diana High School.
In 1943, she earned an Associate's Degree from College of Marshall (now The East Texas Baptist University). She moved to Galveston, and worked at the Panama Refinery. She later met Norman Koneman, one of the plant engineers. After a whirl-wind courtship, (in her words) she "captured" Norman on December 7, 1945 thus beginning a nearly 69-Year romance that came to a peaceful end as she passed away in her sleep, Sunday June 15, 2014.
She gave of her time and talents to her children's school activities. Suzanne was in the band, the boys were in Scouting and on sports teams. Jean, a devout Christian, was an active member of the First United Methodist Church.
Later Jean was employed by Orlando and Margaret Blackburn, as editor of the La Marque Times. For ten fun years, she and Norman were able to share some grand adventures, covering the Lunar Landings at the Manned Space Center, and flying in the Goodyear blimp.
Jean later worked at UTMB. Her final assignment was Assistant to the Chairman of Ophthalmology where she was of help to many people from diverse backgrounds.
She and Norman have had the good fortune to travel to many parts of this World on trains, planes, ships and automobiles. They love to regale us with their stories of places they've seen and people they've met.
After her children were grown, she become involved in La Marque organizations, to include the Garden Club, Crime Stoppers , TC/LM Chamber of Commerce, and continuing Church activities, just to name a few.
She was preceded in death by Nina and Tommy Wheeler, son, Norman (Butch) Koneman, Jo Ann Wheeler Hobbs Brown and Bobbie Ruth Wheeler Lansdale.
Survivors include her husband, Norman Koneman, children George, Suzanne, Kerry and wife, Toni Koneman, sister Christine Wheeler Lutz, Donald Denny and wife Judy, grandchildren Leslie Koneman, Kristen Koneman Huth and husband Michael, Jason Koneman, Jon Vincent Macaluso, Kaycee Koneman Hodges and husband Rick, and Michael Macaluso; nine great grandchildren; and a host of nephews, nieces and cousins.
Pallbearers are: George Koneman, Kerry Koneman, Rick Hodges, Michael Huth, Jason Koneman, Vince Macaluso, and Michael Macaluso.
The family has a deep appreciation to her caregivers Melissa, Renee, Diane, Crystal, Sherry, Misty, and Tiffany. A very special thanks to Michael Selzer, her pastor, as well.
Jean was a wife, sister, cousin, aunt, mother, grandmother, and great grandmother. She was a remarkable woman who will always be a blessing to those who knew and loved her.
Visitation will be Tuesday, June 17, 2014 from 5:00pm till 7:00pm at the James Crowder Funeral Home in La Marque. Funeral service will be 2:00pm on Wednesday, June 18, 2014 at the funeral home with Rev. Michael Selzer officiating.