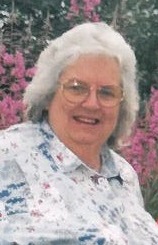 Norma Jean Harris, a lifelong resident of Arcola/Fresno, TX, passed away on March 19, 2016 with her family by her side. Mrs. Harris was born in September 28, 1937 in Houston, TX to Willie and Violet Archer. She was a charter member of Calvary Baptist Church in Arcola and remained a faithful member.
Mrs. Harris is preceded in death by her parents, Willie and Violet Archer and brother, Leonard Archer
Mrs. Harris leaves behind to cherish her memories, husband of 56 years, Tony Harris; sons: Mark Harris and wife Cheryl, Mike Harris and wife Teresa; daughter, Theresa Larson and husband Alan; sister, Lenora Miller; brother, Billy Archer; 7grandchildren and 2 great grandchildren.
There will be a visitation held on Monday, March 21, 2016, from 5pm-8pm at Crowder Funeral Home in Pearland. A service will begin Tuesday, March 22, 2016 at 11am at Calvary Baptist Church in Arcola followed by a graveside at 2:30 pm at South Park Cemetery in Pearland.