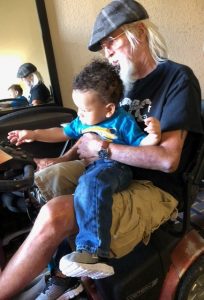 Norbert "John" Novak, Jr.  was born January 20, 1955 in Texas City, Texas and passed away April 25, 2021 in Lakehills, TX.
He was preceded in death by his father Norbert "Norb" John Novak, Sr., brothers, Terrance "Terry" Wilson Novak and Timothy "Tim" Novak, and fur baby Captain. John is survived by his son Jonathan Novak, wife Delia and grandson Ezra of Columbia, Mississippi; his beloved fur babies Blackie and Lola; mother Grace Novak of Dickinson, Texas and sister Cecelia "Cissy" Schmitt and husband Henry of Las Vegas, Nevada.
John served in the US Navy and is remembered as a talented gardener and a devoted father and son. A celebration of his life will be held at a later date.