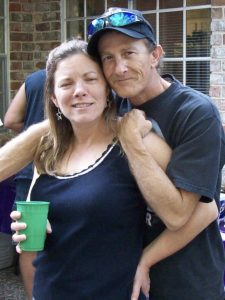 Nicky Scott Keith passed away on April 28, 2022, at the age of 62 after a courageous battle with cancer. Nicky was born in Beaumont, Texas on August 7, 1959, to John "Jack" Stuart Keith and Wilma Jean Keith. Nicky met the love of his life Lori A. Frieden in 1978 and they married in June 1982. They welcomed their daughter Rachel in 1988.
Nicky spent his career as an Instrumentation and Electrical Technician. He was a wonderful artist and those who know his work will remember how talented he was in many mediums. Nicky loved spending time with his family, especially his granddaughters. He was the kind of Papa who played with them, running around the park, building Legos, teaching them to draw, and loved when they helped him with whatever task he was doing. He had a wicked sense of humor and loved to make his family laugh at all their get togethers. Nicky also enjoyed fishing, riding his Harley, watching NASCAR, and playing video games.
Nicky was preceded in death by his father John S. Keith, and his grandparents Coleman L. and Dorothy M. Prescott, and Cecil S. and Ida H. Keith.
He is survived by his soulmate of 44 years Lori Keith, daughter Rachel and son-in-law Bryan Pepin. He was blessed with four beautiful granddaughters: Madisynn, Hailey, Kennedy and Rylee. He is also survived by his mother Wilma Jean Keith, and his grandfather Emilio Perez and numerous aunts, uncles, and cousins; sister-in-law Cynthia and brother-in-law Doug Wilson, brother-in-law Gregory Frieden and partner Cruz Herrera; nieces Britney Colonna, Cassandra Cavazos and husband Ricky, Tasha East and husband Jonathan, Ashley Nemo and husband David; great-nieces and -nephews Skyler Colonna, Addison and Lane Isbell, Bryson and Sophia Cavazos, Nathen Wilson and Kadan East, Kyle and Colton Nemo.
Nicky will also be missed by his many friends and former co-workers.
Memorial Service is Saturday, May 7, at 3:00 P.M. at Crowder Funeral Home in League City.