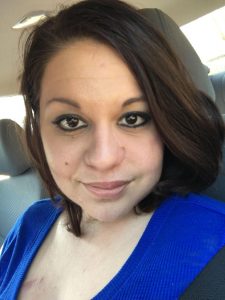 Nichole Annice Vaughan, 33, Passed away May 8, 2019 in Houston, Texas, due to complications of Cancer. Nichole was born September 2, 1985 in Port Arthur, Texas.
Nichole was preceded in death by her grandfather, Gary Lane Block.
Nichole is survived by, her husband, Lee Vaughan; her son, Alexzander Michaelangelo Mangum; her daughter; Olive Annabelle Mangum; mother, Rebecca Delaine Schlegel; stepfather, Jon Robert Schlegel; sister, Natalie Alaine Thompson; sister, Janelle Alise Thompson; grandmother, Linda Ann Block; uncle, Gary Lane Block; aunt, Alva "Auni" Sharlaine Villamill; uncle, Michael Aldrin Villamill; cousin, Sasha Shanelle Block; cousin, Mark Lane Block; cousin Michael Christopher Villamill; cousin, Phoenix Amadeus Gonzalez Block; nephew, Thomas Lane Jon McLain ; nephew, Sylvester Armando Mendoza Thompson.
Services were held on Tuesday, May 14, 2019 in the Chapel at Crowder Funeral Home in Pearland, Texas.
In lieu of flowers, a contribution can be made to:  Sloth Conservation Foundation or M.D. Anderson Cancer Center.