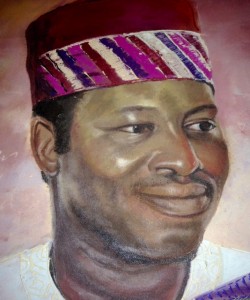 Our beloved brother, father, grandfather, uncle and husband late Mr. Ngozi Emina was born on October 29, 1949 to the family of Late Mr. P.U.I. Emina and Late Mrs. Veronica Emina of Ebu town in Delta state Nigeria.
Late Ngozi Emina attended Baptist Primary School, Apapa Lagos from 1955 through 1960  and further attended Yaba Technical College, Yaba Lagos from 1961through 1965.
After graduating from Yaba technical college, he later worked in various contraction companies in Nigeria. In 1973 late Mr. Ngozi meet Mrs. Caroline (late) during this period, they got married and was blessed with three children.
In 1978, Mr. Ngozi Emina (late) traveled to the United States of America to further his educational where he worked for some time, before he was admitted to study civil engineering at Texas Southern University in August of 1983, he then graduate in May of 1987. Late Mr. Ngozi Emina then relocated to Nigeria in 1988 where the meet Mrs. Felicia. Late Mr. Ngozi Emina will be remember for his principled and disciplined nature, very private and consistent, so consistent; that he stayed and works for the same company for over twenty years. He was never moved by popular opinion but by what he knows and believes in, Always willing to help whenever possible. And his live has been a blessing to many.
Although Late Mr. Ngozi Emina was born and raised as a member of Jehovah Witnesses Church, in 2012 he rededicated his life to Christ in Redeem Church of Christ, Houston, Tx. Shortly before his illness became serious this led to his eventual passing on to meet with Lord on January 25th 2015.
He is survived by his wife, three sons, a daughter and many grandchildren; though the sting of death has taken you away from us, you will be forever remembered in our heart for the invaluable roles you played in our lives. Rest in the bosom of the Lord until we meet to part no more……
There will be a service on Saturday, February 28, 2015 at 10am with Tai Olamigoke to be officiating in the chapel of Crowder Funeral Home in Pearland. Interment to follow at Houston Memorial Gardens.