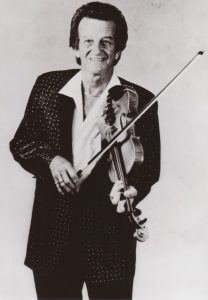 PEE WEE KERSHAW, RENOWNED MUSIC ENTERTAINER, DIES AT 86
Nelson "Pee Wee" Kershaw, musician extraordinaire, went home to be with his Lord and Savior, Jesus Christ, on July 18, 2017, surrounded by his loving family while at Ashton Park Care Center.
Pee Wee was born on July 20, 1930 in the bayous of Lake Arthur, Louisiana. He lived on a houseboat with his father and mother, Jack and Rita Kershaw and his brothers, Edward, Doug, and Rusty Kershaw. At the age of 13, Pee Wee's father passed away, leaving the responsibility of supporting his mother and younger brother's, Doug and Rusty, on his small shoulders. Fortunately, his musical talents were fully developed to meet the task.
He played at local clubs and Fa-Do-Dos until he formed his first band, Pee Wee and His Continentals, which included his two younger brothers, Rusty and Doug. Pee Wee played the drums and French accordion, while his brother Doug played fiddle and Rusty played the guitar.
As their popularity grew, Doug began writing songs which were recorded through J.D. Miller under the name Rusty and Doug Kershaw. Pee Wee began managing his brothers and making bookings while playing in their band. Success brought them to The Louisiana Hayride in Shreveport, LA and, ultimately, to The Grand Ole Opry in Nashville, TN. They toured throughout the United States and in Canada.
Pee Wee became the drummer for Jim Reeves, a well-known Country star at the Grand Ole Opry after his brothers went into the army. After touring with Jim Reeves for a while, he decided to take his wife, Georgia Kershaw, and his children, Rayford and Sharon Kershaw, to live in Galveston, Texas. A few months after arriving in Galveston, Pee Wee and Georgia welcomed another son, Keith Kershaw, to the family.
Pee Wee played at many local clubs in Galveston and throughout the Galveston County area while also working at Sears in Galveston for 20 years. Pee Wee switched from drums to the fiddle and headlined at Mickey Gilley's in Pasadena, as well as playing at the Astrodome concert in Houston with his brother Doug Kershaw, Headliner. He accompanied his brother, Doug, on tour throughout Europe and played the fiddle and French accordion along with the band.
Pee Wee was the Head Entertainer on the first cruise ship in Galveston, The Mississippi Pride, for one year, and then he went to Las Vegas, NV in 1970 to headline at the Basin Street Lounge as well as other casinos. Pee Wee recorded several songs, "Cajun Queen", "Jole Blonde", "Your So Fine", and played the French Accordion on Rusty and Doug Kershaw's recording of "The Cajun Stripper".
His love of music and entertaining was known to all who knew him, especially his love of Cajun music and his Cajun heritage. He was inducted into the Cajun Music Hall of Fame in the Lake Charles Chapter in Louisiana on October, 2014.
Pee Wee is survived by his Son, Rayford Kershaw (wife, Pat) of La Marque, TX, Daughter, Sharon Kershaw Boult (husband, Denis) of La Marque, TX, and Son, Keith Kershaw (wife, Karon) of Galveston, TX; Grandchildren, Jennifer Hymel (Husband, Joseph) of La Marque, TX, Daniel Kershaw of La Porte, TX, Joshua Wickline of La Marque, TX, Rosalee Kershaw of Texas City, TX. Step-Grandchildren, Amber Woode (Husband, Yooku) of Houston, TX, Neil Hardung of Galveston, TX, and Justin Hardung (deceased), Great-Grandchildren, Donovan Hymel and Delilah Kershaw, Step-Great Grandchildren, Lilli Hardung, Julian King, Jocelynn Woode, Hayleigh Hardung, Elizabeth Hardung, and Joseph Hardung, and Brother Doug Kershaw.
Pallbearers will be Daniel Kershaw, Joshua Wickline, Rodney Kershaw, Wayne Kershaw, J. D. Hymel, and Jim Benoit.
Visitation will be Friday, July 21, 2017 from 5:00 – 9:00 p.m. at James Crowder Funeral Home in La Marque. Funeral Services will begin on Saturday, July 22, 2017 at 1:00 p.m. at James Crowder Funeral Home, 401 Texas Ave., in La Marque. Interment will follow at Galveston Memorial Park Cemetery in Hitchcock, TX.