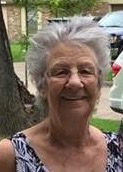 Nelda Lee Cobb, 78, resident of Texas City, Texas passed away May 10, 2016. She was born October 10, 1937 in Oberlin, Louisiana to parents Aswell and Viney Vizena.
She is survived by her two daughters, Myra Vincent and husband Jody, Phyllis Fruge and her husband Jimmy; sons Brent Soileau and wife Janice and Travis Soileau; brother, Rawlin Vizena; nine grandchildren and thirteen great grandchildren. Nine great-great grandchildren.
A memorial service will be held at 4:00 p.m. Saturday, May 14, 2016 at Crowder Funeral Home in Dickinson, Texas.