Nathaniel Remington Armstrong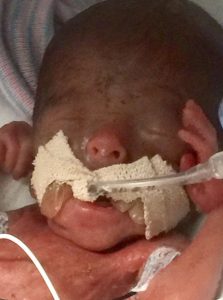 Nathaniel Remington Armstrong, 8 days old, of Santa Fe, TX, went to be with the Lord on Saturday, October 29, 2016. He was born October 21, 2016 to Travis and Nisel Armstrong. Though he was only here for a short time, he was loved fiercely by many.
He is survived by his parents, Travis and Nisel, a sister Scarlette Ryver Yanez,; his grandparents, Randall and Cynthia Armstrong of Jenson Beach, FL, Luis Garcia of Anahuac, TX , Nora Garcia Beach City, TX ; great grandmothers, Maria Acosta of Edinburg, TX, Maria del Refugio Garcia of Lasara, TX; Aunt and Uncle, Luis and Azalia Garcia of Beach City, TX; cousins Benjamin Kale and Olivia Reese of Beach City Texas, as well as many more aunts, uncles and cousins. He was preceded in death by three great grandfathers, Otis Lloyd Armstrong, Juan Acosta, and Gutberto Garcia; and a great grandmother, Evelyn Askew Armstrong of Elizabeth City, NC.
A wake will be held at Crowder Funeral Home in Dickinson, TX from 5 p.m. to 8 p.m. on Friday, November 4,2016 and a funeral service at 10:00 a.m. on Saturday, November 5, 2016 at Living Stones Church with Pastor Scott Niemeier officiating. Entombment will be at Mount Olivet Cemetery. The family will receive family and friends immediately following graveside services in their home.