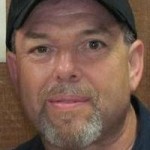 Nathan James Eymard, 54, resident of Conroe, Texas, passed away April 26, 2014 in Webster, Texas. He was born in Metairie, Louisiana to parents Floyd and Judith Eymard. Nathan was a Tug Boat Captain who loved spending time with his family and cooking for others. He also enjoyed fishing and hunting.
He is survived by his wife, Deborah Eymard; daughter, Stephanie Chambers and husband Justin; daughter Lindsey Milton; son Eric Eymard; grandchildren, Jaycee and Jaxen Chambers, Jordan Padgett, Marina Cunningham, Kirsten and Gillian Milton; mother and father-in-law Loretta and Norman Theriot; brother-in-law Norman Theriot and wife Tina; sisters, Gilda Melancon and Dixie Brunet and husband Allen; along with numerous other relatives. Predeceased by brother-in-law Keith Theriot.
Nathan was a generous, sweet kind loving man who will be missed by many. He will be in our hearts forever.
A memorial service will be held at 2:00 p.m. Saturday, May 10, 2014 at Crowder Funeral Home in Dickinson, Texas.