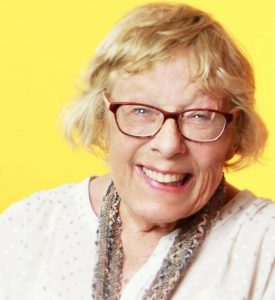 Nansi Elizabeth Moore, 72 of League City passed away Saturday, December 23, 2017, in League City, Texas.
Nansi was born April 12, 1945, in Newport, Wales, the daughter of Harry Southan and Hilda Williams Southan. She was a resident of League City for the past twelve years and formerly of Beaumont, Hempstead, and Houston. Nansi was an actress and member of the Screen Actor Guild, St. Michael's Episcopal Church of La Marque, and the League City Police Citizen Police Academy Alumni. Nansi is preceded in death by her parents, brother Arthur Southan, and sister-in-law Sylvia Southan.
Nansi is survived by her loving husband The Rev. Dr. Bob Moore; daughter and son-in-law Melinda E.S. Newsom and Jed Newsom; son and daughter-in law Michael Martin and Jennifer Martin; two brothers and sister-in-law John Southan, Ron Southan and Lynn Southan; her grandchildren Evan Martin-McKamie, Emily Martin-McKamie, Erica Martin-McKamie, Ethan Martin McKamie, Jennifer Holmes and Steve Holmes, Julie Newsom, Tiffany Tollefsbol, Kyle Martin and Cody Martin; great grandchildren Taylor Tollefsbol, Travell Holmes, Jayden Holmes, and Aubrey Holmes; and numerous nieces, nephews and other assorted relatives.
A Memorial Service will be held 10:00 am Friday December 29, 2017, at St. Michael's Episcopal Church at 1601 Lake Road, La Marque, Texas, with Bishop Andy Doyle officiating.
In lieu of flowers, the family requests that donations be made in her name to the 100 Club.