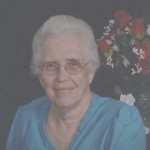 Nan Duke, 83, resident of Dickinson, Texas passed away May 24, 2014. She was born November 27, 1930 in Austin County, Texas to parents Joseph and Mary Lyons. She was a forty eight year member of the First Baptist Church in Dickinson and was a Kindergarten Sunday School Teacher. She retired in 1996 from American National Insurance Company after forty seven years of service. Nan enjoyed bowling, gardening, sewing and canning. Her favorite pastime was spending time with her grandchildren.
She was preceded by her husband Guy W. Duke, granddaughter, Harmony Alaine Alexander, step-son Rodney Duke, sisters, Nell Villa and Lorraine Hall.
She is survived by her daughters, Cathy Alexander and husband Greg, Melissa Cummings and husband Mike; step-daughter, Becky Duke; step daughter-in-law, Lupe Duke; sisters, Margaret Montes and Katherine Gonzales; brother, William Lyons; and grandchildren, Haley, Ryan, and Lauren Cummings; Caitlin, Megan and Jesse Alexander.
Visitation will be held from 4 p.m.-7 p.m. Friday, May 30, 2014 at Crowder Funeral Home in Dickinson, Texas. Funeral services will be held at 10:00 a.m. Saturday, May 31, 2014 at Crowder Funeral Home in Dickinson with interment following at Galveston Memorial Park in Hitchcock.
In lieu of flowers, memorial donations may be made in the honor of
"Nan Duke" to the First Baptist Church, 2504 44th St., Dickinson, Texas 77539.