Mrs. Yung-Tsung Liu Hwang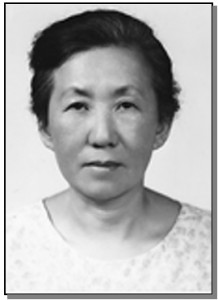 Mrs. Yung-Tsung Liu Hwang was born June 16th, 1927 in Shanghai. Her father Mr. Shi-Kang Liu grew up in a prominent Chinese family from Zhe-Jiang, where her paternal grandfather was the first Chinese principal of Guang-Ji medical college, practicing western medicine in HangZhou and was knighted by Qin Dynasty imperial court. Her mother, Mrs. JinYin Wang Liu, graduated from Zhong-Shi Women College. Mrs. Hwang graduated from Taiwan University with a B.A. degree in English literature. She is the oldest of 3 children; her younger brothers, John and David have both passed away.
In 1952, she married Mr. Ming-Tu Hwang, a school master where she taught English classes. They have two children: Dr. Caroline Hwang Houng and Rev. Dr. James Hwang. Caroline is a English language professor at Taipei Technology University, and Rev. Dr. James Hwang was a Robotics Engineer serving NASA for 14 years, then called to serve as the Sr. Pastor of Clear Lake Chinese Church for another 14 years. Rev. Hwang further earned a Doctor of Ministry degree from Dallas Theological Seminary, and now is the executive director of Far East Broadcasting Co. Chinese Ministry in California. She has 6 grown grandchildren, Stephanie, Allen, and Brian from Caroline, and Elaine, Gloria, Janice from James.
Mrs. Hwang was strong willed and hard working. Along with raising her two children, she worked full-time as a librarian at Chung Yuan University, Taiwan, for 25 years. Her husband passed away suddenly from a heart attack in 1992, the same year when she was to retire. She subsequently immigrated to US to be closer to her children and grandchildren. She has resided in Houston for 22 years. Initially, lived in Clear Lake area and attended Clear Lake Chinese Church for 8 years, she moved to Goldberg Tower senior apartment in southwest Houston, and continued to attend several churches in the area. In 2007, she was placed in Harbourview Care center nursing home after a major heart attack and increasingly disabling dementia. She was very loved and taken care of by nurses and medical staff there.
In the late 2014, James' family and all 3 granddaughters came to see her in Thanksgiving holiday. She surprised everybody by greeting James and grandchildren in spoken words, the first time over a year. She was visibly in very good mood. A few days after the visit, she had a second stroke and had not gained consciousness since. Her two other grandchildren in US subsequently visited her in Christmas time. Her daughter, Caroline was not able to come due to a recent eye surgery, but communicated to her through video phone call.
Mrs. Hwang went home into the bosom of her precious Savior and Lord Jesus Christ on Saturday, 1/3/2015, 11:45AM. She is a fourth generation Christian. With her children and grandchildren, this family has been blessed by God's Grace for six generations. Glory be to the God almighty! Highest tribute to the first generation Rev. and Mrs. Hsia, Mrs. Hwang maternal great grandfather and grandmother! Mrs. Hwang will be buried at Forest Park East, Webster, Texas, next to her beloved husband's resting place.
1 Corinthians 15:50-53 (NIV)
I declare to you, brothers, that flesh and blood cannot inherit the kingdom of God, nor does the perishable inherit the imperishable. Listen, I tell you a mystery: We will not all sleep, but we will all be changed– in a flash, in the twinkling of an eye, at the last trumpet. For the trumpet will sound, the dead will be raised imperishable, and we will be changed. For the perishable must clothe itself with the imperishable, and the mortal with immortality.