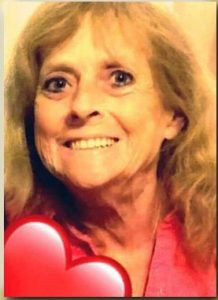 Mrs. Robin L Brushwood
August 5, 1960 – March 28, 2017
Mrs. Robin L. Brushwood, 56 of Forsyth, MO, died Tuesday, March 28, 2017 at her residence.
Robin Lynn Brushwood was born, Friday, August 5, 1960 in Texas City, TX to Raymond Harold "Smitty" and Darlene Bryan (Renehan) Smith. She attended Texas City High School. After school, she became a homemaker and a Tupperware Dealer. Later she worked as a certified public accountant. She lived in Texas City, TX and Gower, MO. While in Texas City, she met John Brushwood. They were married February 21, 2006 in Las Vegas, NV. She and John moved to Forsyth in 2005.
Robin especially enjoyed computer games. Her favorite was Pogo. She was an avid bingo player that liked fishing and sewing. She had a great sense of humor, was loving, kind and helpful. Robin was devoted to her family, especially her husband, children and grandchildren. She was of the Baptist Faith.
She is survived by her husband, John Brushwood of Forsyth, MO; parents, Smitty and Darlene Smith of Gower, MO; four sons, Bryan Todd Dwyer of Texas City, TX, Steven Brushwood and wife, Renee of Easton, MO, Patrick Brushwood of St. Joseph, MO, Jason Brushwood and wife, Megan of Trimble, MO; two daughters, Shelley Dwyer and husband, Angelo of Texas City, Rebecca Brushwood and husband, Abdallah of MS; one brother, Harold "Butch" Smith of St. Joseph, MO; one sister, Theresa Smith of Texas City, TX; seventeen grandchildren and one great grandchild. She is preceded in death by a son, Johnathan Brushwood.
A Memorial Service will be at 7:00pm on Tuesday, April 11, 2017 at the James Crowder Funeral Home in La Marque.