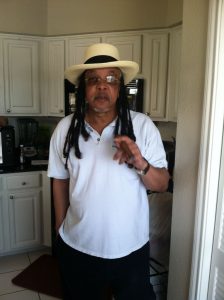 Mr. Tyrone Jenkins Sr., of Kemah, Texas peacefully passed away Saturday, April 8, 2017 at his home. He was born on November 30,1953 to parents Lee Gary Gaines Jr., and Georgia Lee Jenkins in Clarksdale, Mississippi.  Tyrone was raised in a loving home in San Bernardino, California by his grandparents Joseph and Alberta Jenkins.  A 30 year California State employee, Tyrone used his extraordinary communication and leadership skills as a Psychiatric Technician with the Department of Corrections.
He was preceded into eternal life by his parents (Lee and Georgia Lee) and brothers Rubin Donell Monix and Ollie Young III.  His legacy is cherished by his loving wife of 48 years, Linda Jenkins, aunts Floyree McGhee Mary McGhee and Mary Cooper, sons Tyrone Jenkins Jr., and wife Norka, Taj Andre Jenkins and wife Bonnie, Tiant Armand Jenkins and wife LeeAnna, sisters Judy Young, Joann Young, Sherry Shambee, Marshell Young, Charlotte Young, and LuJuana Goodlett, grandchildren Tyre Johnson, Tayler Jenkins, Nicholas Jenkins, Damien Campa-Jenkins, Desmond Campa-Jenkins, and Elodie Campa-Jenkins, and great grandchildren Valerie and Gracelynn Johnson.  13 nephews, 10 nieces and more than 20 grand-nieces and nephews.
A celebration of life will be observed Sunday May 7 at The Club at Riverstone 18353 University Blvd Sugar Land, TX 77478 from 18:00 – 20:00.