Minnie Mae "Mitzie" Warling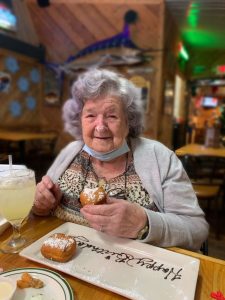 Minnie Mae "Mitzie" Warling, 89, was called home in the early morning hours Sunday August 28, 2022 surrounded by family and close friends. Born November 20, 1932 to William "Bert" & Callie Playle in Elk River, MN, Mitzie was a brazen woman who lived a life full of adventure. The second born and eldest girl of 15 children, she blazed an untamed trail always treading through life on her own terms. A lover of things that go fast, especially motorcycles, high-end tequilas, and creating beautiful works of art, Mitzie was a woman who did not believe that there was a task she could not accomplish and took the phrase "you can't" as an invitation to try. Far from perfect, but aren't we all, Mitzie spent time in the last years of her life healing and mending relationships, growing and softening her heart and allowed herself to be loved by those around her. She was our matriarch, a beloved daughter, sister, wife, mother and grandmother and our hearts are forever changed with her loss.
The Zwiebel family would like to convey their sincere gratitude to the staff at Sodalis Texas City, not just in Mitzie's final days but also the two years that she was a resident. The overwhelming amount of love and support received is a testament to the amazing woman that we all miss dearly. You all helped make this process easier to bear with your kind words, sharing of fond memories, and endless supply of hugs and prayers. Also, thank you to Transitions Hospice for their gentle and attentive care of Mitzie, her beloved family, and dear friends. You were a source of strength and comfort for us all in her final hours.
Mitzie is survived by her children Clyde (Valerie) Preston, Roger Preston, Cynthia (Bill) Dukhorn, Patricia (Kevin) Cox, Deborah (Mike) Cotter; grandchildren Shelly (James) Storm-Fruehling, Eric (Valeria) Preston, Jessie Preston, Leon Preston, Jacqueline Denardo, Derek (Chastity) Dukhorn Amber Dukhorn, Brock (Jocelyn) Dukhorn, Michael Cox, Matthew Cox, Callie Cox, Elizabeth Cannon, Jessie Rae (Lisa) Kramer, Scotty Stark, Stephen (Charla) Stark, Billy Stark, Michael Farrell, Jeaninne (Mike) Eppard, Samantha (Mark) Zwiebel and Christopher Fields; countless great-grandchildren and even some great-great-grandchildren. She was proceeded in death by her husband, Gordon Lawrence Warling, Son Gilbert Grimes, Daughter Connie Annette Farrell, Grandson Nicholas Mills and parents Bert & Callie Playle.
The family will hold a private visitation to mourn the loss of Mitzie, a woman who was a bright light in all of our lives.