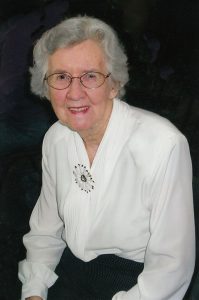 Mina Faye Schroeder was born on August 15th, 1923 to William Theodore White & Jennie Massengill White in Morris Chapel, Tennessee.  She departed this life on July 15th, 2019 after a lengthy illness.
Faye grew up on a farm in rural Tennessee in the days before electricity with her older brothers Wendell & Wayne White, spending a few fondly-remembered years in Oklahoma as a child, before returning to Tennessee.  She came to Texas during World War II, working in Galveston for American National Insurance, then for a real estate agency in the booming town of Texas City.  She was just a few blocks away from the waterfront during the Texas City Disaster of 1947.  Faye later became a managing escrow officer for Stewart Title in Galveston.
Faye married B.C. "Bert" Schroeder, Jr. in 1956, moved to Dickinson, started a family and established a book business, Schroeder's Book Haven, servicing colleges, schools & libraries.
Her interests included reading, bird watching, fishing, caring for semi-feral cats and being a grandparent.  Faye had that "Greatest Generation" stoic fortitude, persevering through personal losses, numerous hurricanes, fire and floods.   She had a dry sense of humor and could bake the best chocolate and pecan pies.
Faye is survived by her son, Bert Schroeder & his partner Jeanni; daughters Elaine White & husband Michael, Trudy Hasan & husband David; three grandsons: Walker, Josh & George Manning; two great-granddaughters: Audrey & Natalie; a nephew: Dr. Larry White, DVM, and three nieces: Linda Hanson, Bonnie Sanford and Janice Kramm.
We would like extend our appreciation to Deedee Mazade, La Vita Bella in Dickinson, and to South Austin Assisted Living & A-MED Hospice Care in Austin for their care and compassion in her last years. Thanks to Paul Castellano with Crowder Funeral Home for his friendship, advice and assistance in our time of need.
In lieu of flowers, the family requests donations or memorials be made to your local animal shelter or library.