Mildred Rosalia (nee Knauer) Wignall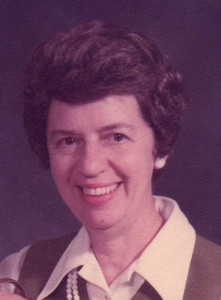 Mildred Rosalia (nee Knauer) Wignall died peacefully in her home on May 1. Milli, daughter of Rosalia (Young) Knauer and Col. John G. Knauer, was born in Washington, D.C. on February 24, 1920. During the course of her father's military career she lived on Corregidor Island, Philippines, Ft. Totten, NY, Washington, D.C., Panama Canal Zone and Denver, Colorado. She graduated from Denver University where she was a member of Sigma Kappa Sorority. After graduation she moved to Washington, D.C. where she illustrated the Consumer Education Study books for the National Education Association during the war years.
Milli married Herbert Wignall on February 4, 1945. This year they celebrated 71 years of a devoted and loving partnership. They lived 30 years in Cedar Rapids, IA where they raised their family and she taught art classes. They also enjoyed living in Barrington, IL and Oklahoma City, OK before moving to Pearland in 1981. Milli was known for her prolific art work, including her watercolors, oils, and annual Christmas card. She is survived by her husband Herbert, her sister, Virginia Watson, a daughter Laura (Philip Rovang), and sons Thomas (Mary) Wignall and James (Karen) Wignall, nine grandchildren and four great-grandchildren.
A memorial service will be held Monday, May 9 at 3:00 p.m. at Crowder Funeral Home, Pearland, TX. Interment will follow at a later date in Cedar Rapids, IA.