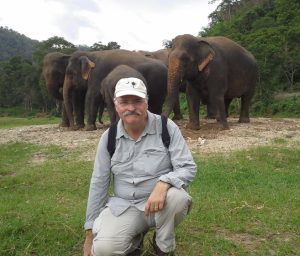 Michael Robert Lawrence, 72, a resident of Pearland, TX, formerly of Newport, Oregon,Myrtle Beach, South Carolina, and San Diego ,California ,passed away March 16, 2023 in Pearland, TX.
Michael was born in North Tonawanda, New York on February 1, 1951 and was of the Catholic faith. He served his country volunteering in the U.S. Army during the Vietnam War as an Operating Room Technician stationed in Fort Sam Houston, San Antonio Texas. He attended the University of Buffalo, San Diego State and Buffalo State University. He had a Master's Degree as a Reading Specialist. He taught for 30 years in various elementary schools in New York, North and South Carolina and Oregon. Considered a very talented, creative , loved teacher. He mentored education students from Wales and England for many years.
Michael was a very talented artist in many ways. He was a cartoonist , amateur video artist, and established painter. His works were displayed on the walls of the Pediatric Unit of Roswell Park Cancer Institute and Buffalo Jewish Center in Buffalo, New York.Michael was also a successful actor in various Community Theater productions in his home state of New York.He loved to entertain children with his silly songs on guitar.
He loved to travel with his wife and dog to many National Parks and his favorite was the Grand Tetons and Cody Wyoming. His last major trip overseas was to Thailand. He loved the Buddhist Temples. Yet, The elephants were his favorite.
He reunited with his son, Christopher George Lawrence.
Michael leaves behind his wife Mary Lawrence; son, Timothy James Lawrence; sister, Margaret Lawrence, husband Graham;
brother, John Charles Lawrence, Jr. wife Lynn and nieces and nephew.