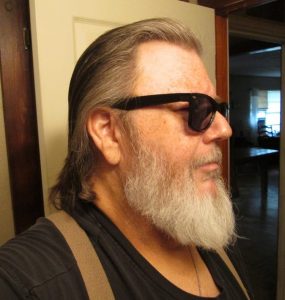 Michael Mel Owings
February 1, 1957 – December 30, 2016
Mike passed away unexpectedly during the night of December 30, 2016.  He is survived by his mother, Mary Wynona Humphrey Owings Mooney, sister Michelle Jimee Owings Powel and her husband Martin Vincent Powel, "little brothers" Steve Hubbell and Davis Powel, niece Nicole Jimee Powel and his Oklahoma Family.  He is also survived by his beloved kitties, Sylvester, Baby Kitty, and Shrew.
Mike enjoyed collecting and restoring antique radios and was a master mechanic.  His passion was restoring Harley Davidson Motorcycles (and building choppers in the 70s and 80s).  His talent and mastery are evident in "Jezebel", his 1952 Harley Davidson Hydra-Glide, which he and Steve resurrected from a box of parts and a frame.
Michael's wish was to be cremated. A celebration of his life will be held on a later date.  Expressions of sympathy or flowers may be sent to his mother Ms. Mary Mooney, c/o Bay Wind Village Care Center, 411 Alabama Avenue #216, League City, Tx 77553.
Mike would be honored by donations to your local Pet Rescue/No kill shelter.