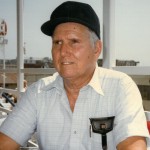 Michael John Monych, 91, passed away June 29, 2014, in Friendswood, Texas. He was born July 27, 1922 in Galveston, Texas to Harry and Anna Monych. Mr. Monych was a long time resident of La Marque and formerly from Galveston.
He was very proud to serve his country as a US Marine during WWII and the Pacific Theater as a Technical Sgt.
As a teenager he rode his bicycle to deliver telegrams to different parts of Galveston, he worked for Amoco for 40 years as a machinist. He attended Friendswood United Methodist Church and Queen of Peace Catholic Church.
He is survived by his wife of 50 years, Martha Monych, daughter Brenda Kerr, sister-in-law Lucille Monych, nieces Betty Schoenbaechler and Patricia Monych, nephews Harry Monych, Chris Melson and numerous other nieces and nephews, extended family Bob Kerr, and the heart of his life his granddaughter Christina Kerr.
Visitation will be Wednesday, July 2, 2014 from 5:00pm – 8:00pm with a rosary at 7:00pm at the James Crowder Funeral Home in La Marque. Funeral service will be 2:00pm on Thursday, July 3, 2014 at the Crowder Funeral Home with Rev. Rosemary Dubois officiating. Burial will follow at Mt. Olivet Catholic Cemetery in Dickinson, Texas.
The family would like to thank Heart to Heart Hospice for their care and compassion, their love and devotion to our husband and father were beyond compare.
Pallbearers will be Robert Kerr, John Paul Faour, Wesley Monych, Billy Pollio, David Mongan and Patrick Faour.