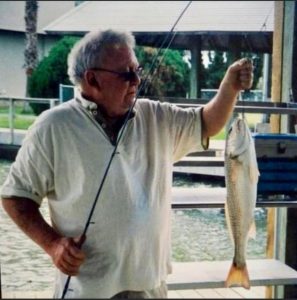 Michael Jay Lubel was born February 2, 1943, in San Antonio, TX, and passed away August 11, 2022 at his home on Tiki Island, TX, at the age of 79. He graduated from Thomas Jefferson High School in San Antonio and attended the University of Oklahoma. While at OU he was a member of Sigma Alpha Mu fraternity. After college, Michael returned to San Antonio where he was an entrepreneur working in the commercial laundry, dry cleaning, and uniform business. Michael became an active member of the Rotary Club and is a Paul Harris fellow.
Michael never met a stranger and loved to chat and exchange stories around the clubhouse at Lakewood Yacht Club in Seabrook, TX, where he was a long-time member. He loved the hours and months he spent restoring his trawler, as she was truly his pride and joy. He loved to cook and enjoyed having people around, especially his family. That was when he was the happiest. Michael was an avid animal lover and leaves behind Alfie and Rascal, his beloved dogs.
Michael is survived by his wife, Kathryn Winblade Lubel, daughters: Rachel Lynn Lubel Johnson, and Elizabeth Ann Lubel Earley (C.J. Earley); sons: Mark Charles Lubel (Sue Ellen Lubel), and Andrew Louis Lubel (Nancy Jones Lubel); grandchildren: Leo Lubel, Jeremy Lubel, Eli Lubel, Zane Lubel, and Logan Lubel; sister, Beverly Maltz (Barry Maltz); brother, Richard (Dickie) Lubel (Janice Jendrusch Lubel), nephews; Lance Lubel, Alan Franklin (Mandy Levine Franklin) and niece Amy Franklin Kane.
A celebration of life service will be held at 12 p.m. on Sunday, November 20, 2022, in the chapel of Crowder Funeral Home, 2422 Broadway St., Pearland, TX 77581. In lieu of flowers, the family is asking that donations be made to the Galveston Island Humane Society
https://youtu.be/Hmam96tUI7Y